---
Are you short on time and unable to bring your vehicle in for regular servicing?

Are you looking for a cost-effective solution to your vehicle maintenance needs?
Introducing the Automatic Rotating Car Wash Brush, your ultimate solution for keeping your vehicle in top condition. With its comprehensive cleaning capabilities and effortless operation, you can save time and money on traditional car washing services.

The Automatic Rotating Car Wash Brush is designed to make cleaning your car a breeze, simply connect it to your hose, add your favorite shampoo, and let the spinning action do the work for you.

Experience the best in car cleaning with this dream come true tool. Keep your vehicle shining and spotless with the Automatic Rotating Car Wash Brush.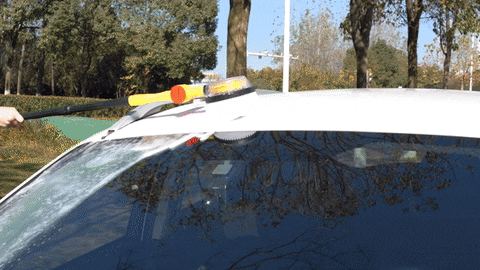 Why Choose Us:
✓ No Electric Needed
✓ Self service car wash

✓ Perfectly fit & Easy to carry

✓ Save water & Protect the environment

✓ Micro water washing & Protecting the paint

✓ Save time & Interact with family
Features:
✓ ENERGY-EFFICIENT: No need for electricity, the  Car wash brush is powered solely by water for an eco-friendly and energy-efficient cleaning solution.

✓ EASY FOAMING: Simply add detergent to the box to experience the convenience of automatic foam production.
✓ POWERFUL PRESSURE: Our Car wash brush features a high-pressure water flow rate of 13L/min for a thorough clean. Remove the brush head for an even higher-pressure wash, easily removing tough grime and dirt.
✓ GENTLE BRISTLES: The  Car wash brush features soft chenille flannelette and bristles for safe and effective cleaning, removing dirt from various parts of your vehicle without scratching the surface.
✓ EASY OPERATION: Simple and straightforward to use, with zero risk of damage to your vehicle thanks to its soft bristles.
✓ EXTENDABILITY: Easily reach high parts of your car by extending the brush to its full length.
✓ COST-EFFECTIVE: Save money by washing your car from the comfort of your own home instead of visiting a car wash or valet service.
✓ VERSATILE USE: The Automatic Rotating Wash Brush is perfect for a variety of cleaning tasks, including vehicles, boats, motorcycles, windows, and even watering plants. Get the most out of your cleaning tool with its multi-purpose design.
How To Use:
Just Connect-and-play Automatic Rotating Car Wash Brush.
-Three Things Need To Do:
(1) Install all brush parts.
(2) Connect to Garden Hose.
(3) Open the Faucet.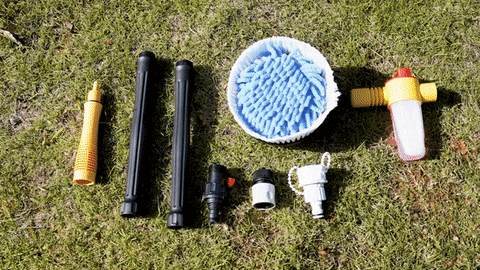 Specifications:
Size: length 120cm/47inch
Material: Chenille, ABS
Gross Weight: 920g
Package Includes:
1x Round Brush Head with Detergent Box

2x Black Extension Poles

2x Garden Hose Quick Connector

1x Tap Connector

1x User Guide