---
"I just saved £40 by getting this £29.99  Clown Mask, it is WORTH every penny!"

⭐️⭐️⭐️⭐️⭐️ - Kevin S.
Our beautifully crafted Creepy Clown Mask is guaranteed to make everyone in party admire the mystery! It Let you be the focus of the crowd.
What Makes Clown Mask Special:
✔ Made of 100% environmentally friendly latex.
✔ Safe and Non-toxic.

✔ Comfortable and breathable
✔ Eye LED Light
✔ The clown mask fits most of the size of adults or children ( both men and women ) and can be matched with Halloween clown costume.

✔ Suitable for Masquerade Parties, Costume Parties, Carnival, Christmas, Easter, Halloween, stage performances, craft decoration...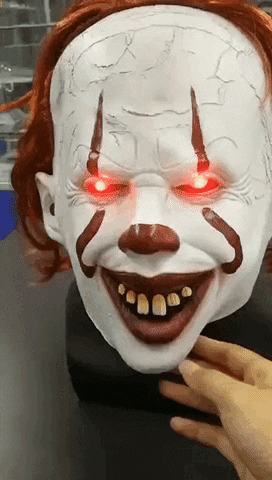 Features:
LED Clown Mask:
This LED surface has 3 different frequency lighting effects.
The position of the glowing eyes will not block your vision. There are two sight holes under the LED lights, and there are vents at the ears and noses.

Creepy Clown Mask:
The cracks on the face have a real touch, restoring the clown mask more real.

Best Gift: 
The clown mask is the most popular style to scare friends on Halloween, and it is also a special gift for friends, family, brothers and best friends