---
 Enjoy Your Relaxing Time With Our Heating Back Stretcher!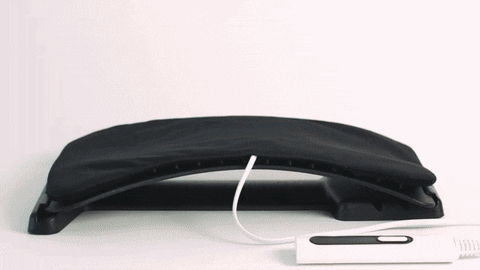 Featues:

✔ END THE CONSTANT SUFFERING NOW: Our spine board is designed to fit people of all heights and weights with adjustable arch to quickly relieve your back pain. Enjoy the back arch stretcher from the comfort of your home and bed and listen for a "pop"!

✔ UNIQUE HEATING TECHNOLOGY: Enjoy back traction—with heat therapy! Our spine deck comes with a removable heated pad for back pain relief. Relax with a soft heat cushion, or remove it for a deeper massage. Relax your aching muscles with a back board!


✔ MULTI-LEVEL DESIGN: Adjust the arch to three different levels for different Spine Stretching intensities and choose your preferred heat level—our back pain relief product has multiple options so you can find the best combination to suit your needs!

✔ PORTABLE BUT STURDY: Use the spine aligner equipment anytime, anywhere! Made of sturdy materials, the device is small and light enough to carry and store—perfect to use in bed, on chairs, and in cars. Find sciatica pain relief anytime, anywhere!

✔ EFFECTIVE BACK STRETCH: Our lumbar stretcher is a better and more cost-efficient machine than an inversion table for your spinal decompression needs. We trust our back aligner with multi-level options will be the only posture corrector you'll use!
Benefits:
Multi-floating point massage matrix.
Professional ergonomic design.
Lightweight high-density materials.
How to Set Up:
Step 1: Bend the support arch before placing it into the base for an easier assembly. Place the base and support arch on a flat, secure surface such as a rug or carpet for grip. place the wide end closer to you.
Step 2: Rest your knees on the wider end to further secure the base. Slide the wider end of the support arch into the desired notch at the wider end of the base.
Step 3: Grip either side of the narrow end of the support arch and then gently press and bend the support arch until you can slide it into the desired notch.
Step 4: If you would like to enjoy a less intense massage, attach the soft heating pad to the velcro attachments on the top of the product, and then plug in the power connector cord.
Package Includes:
1x Back Stretcher
1x Heated Pad
1x Remote Control
1x User Manual