---
No Darkness can beat you with our latest Night Vision Binoculars!
Night Vision Binocular is a hand-held digital night vision goggles that utilizes an infrared CMOS sensor, which to provide outstanding image quality no matter day or night! The Fully multi-coated optics increase light transmission and decrease glare, letting the binoculars to see further and clearer than those normal night vision goggles!
Features:
✔ CLEARLY SEE IN 100% DARKNESS: Our upgraded R6 night vision binoculars feature an 850nm INFRARED ILLUMINATOR and All-Optical System allows you to see animals or plants clearly in 100% Darkness or dim ambient light.
✔ 984FT/300m LONG VIEWING RANGE: Outstanding optical clarity, high performance digital night vision device, enable you to observe the target in complete darkness and the range up to 984ft/ 300m.
✔ MANUAL FOCUS: The 4X digital zoom allows the user to zoom in on an object or zoom out to a broader perspective. If the observation distance is far, please rotate the lens to left. If the distance is near, rotate the lens to right.
✔ 7 GEARS IR NIGHT VISION: 7 IR levels are adjustable according to the ambient light. The IR gear can be change according to ambient light. The higher the infrared light gear is adjusted, the farther and clearer the observation is at night.

✔ FULL HIGH DEFINITION VIDEO & PHOTO: Built-in a High-sensitivity CMOS Sensor that achieves 1080p Full HD video resolution and 10 million pixels photos, which can make videos and photos look clearer and more vivid. Be it day or night.
✔ LARGE DYNAMIC WIDE SCREEN: This Night Vision Binoculars with 2.4'' TFT view screen, convert to 4" large viewing screen by the convex lens. It has a high resolution for better display the views.
✔ DOWNLOAD FILES TO PC: By inserting the memory card into a card reader, and you can also use the USB 2.0 to connect the computer to transmit data to prevent data loss.
✔ SUPPORT UP TO 128GB SD CARD: Our Night Vision Binoculars support up to 128 GB micro sd cards, never worry about running out of storage anymore!
✔ WATERPROOF: IPX4 rated weather-resistant Night Vision Binoculars can withstand heavy rain and still work perfectly. Sturdy and reliable.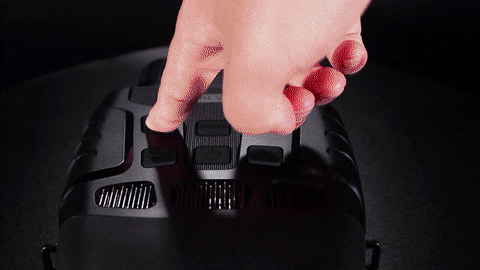 Specifications:
● Product Size: 200 x155 x 65mm
● Item Weight: 500g
● Battery: 6 x AA
● Voltage: 7.5V
● Effective Sight Distance: 300m/984FT
● Diameter of Objective Lens: 25mm
● Video Resolution: FHD(1920X1080@30FPS), HD(1088x1088@30FPS)
● USB Interface: USB-C
● LCD Screen: 2.4 inches
● Infrared light: 850nm
● Night Vision Adjustment: 7 gears
● Digital Zoom: 5x
● Operating temperature: -30℃ to +70℃


Package Includes
1 x Night Vision Binoculars.