---
Are you or anyone in family or friend having stiff neck, pressure in neck and shoulder?
Do you feel neck pain while working?
Did you try to easy your neck pain ?
Due to long hour of work on computer, smart phone, desk work, driving, knitting, sewing, writing etc.. most of the people feel neck pain. Our electric pulse neck massager can help to relieve pain in the neck and shoulders. If you're stressed or just need to unwind, neck massager will help you to relax.
What Can Our Neck Cervical Massager Help With?
Looking for an easy-to-use neck and shoulder pain-relief device?

Our cervical massager can deliver effective relief from the following:

✔️ Neck pain and stiff neck.
✔️ Shoulder fatigue.
✔️ Promote blood circulation.
✔️ Tight or Sore Muscle
✔️ Pinched or Trapped Nerves
✔️ Spondylosis (Neck Arthritis)
✔️ Headache From Neck Tension
✔️ Poor Body Posture
✔️ Compressed, Herniated, Bulging Discs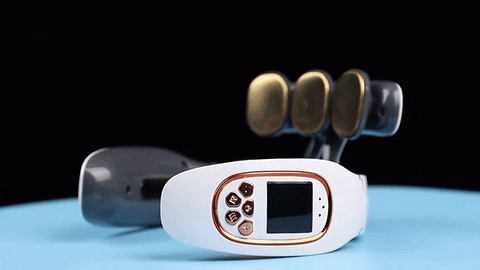 What Makes Our Neck Cervical Massager Special:
✔ Made of good quality ABS and silicone materials, safe to use.
✔ Skin- friendly.
✔ Equipped with a remote controller easy to operate and use.
✔ Comfortable to wear and durable.
✔ Voice Guidance.
✔ Very quiet.
✔ Large capacity battery.
✔ TENS pulse technology.
✔ 4 Massage Modes & 15 levels of intensity.
✔ The perfect gift for parents or friends. Care about the health of your loved ones.
Features: 
Portable, Light Weight & Comfortable: Ergonomic design neck massager is easy to carry along. can be used whenever and wherever home, car, airplane, office etc.. material is skin friendly 6 copper massage heads arranged scientifically, precisely covering multiple segments of cervical spines. C-shape adjustable massage tool enables more personal use.
TENS Pulse Massage: The low-frequency pulsed electromagnetic current is conducted through the skin, and by activating the body's cells, it prevents soreness caused by muscle stiffness.
Reomte Control: Equipped with a remote control that can be used remotely, making it easy and practical.
Rechargeable: Built-in rechargeable 500mAh battery can be directly powered by USB charging, you can easily access power by adapter, computer, power bank, and so on.
Constant Heating: 18℃-42℃ warm treatment can help boost the blood circulation, soothe tired muscles and relieve aches thoroughly with constant heating.
15 levels of intensity: 0-5 gears, gentle intensity.  6-10 gears, soft and rigid. 11-15 gears, strong experience. 
4 Massage Modes: Auto mode, Acupuncture mode, Beating mode, Kneading mode. This smart neck massage device offers various massage enjoyment according to your needs.
Intelligent Voice Guidance: The whole working process is explained by voice. Be aware of each mode of work, even when wearing it around the neck when working. It can also help people with poor eyesight to use it simply and it also can be muted.
Smart Timer Function & Safety: Auto power-off function, it will automatically turn off after 20 minutes operation, energy efficient and safe.
Electrode Patch: Use an electrode patch and apply it to your muscles, waist, and shoulders, among other places. Massage and relax your neck and other part of your body at the same time. 
Specifications:
Material: ABS
Power: 6W
Charging Time: 1 Hour
Temperature: 42℃
Charger: 5V/1A
Weight: 170g
Size: 14.8cm x 15.6cm
Package Includes:
1x Neck Cervical Massager
1x Electrode patch connection line
2x Electrode patch
1x USB charging cable
1x Remote control
1x User Manual