---
The baby can enjoy the fun of swimming ,even in the hot summer!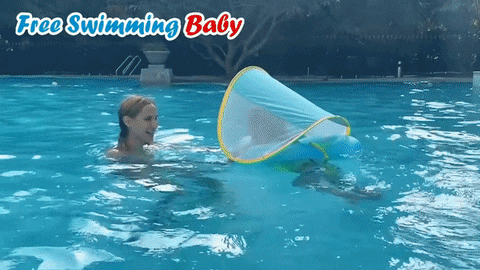 Before they can learn to swim, babies need to first feel comfortable and safe in the water.
Our Safety Baby Swimming Float with Canopy are designed to help babies and parents relax and enjoy the water introduction experience.
Features: 
✔ Baby-safety material: Made of durable environmental PVC material,passed the CPC Standards which is the highest and strictest international safety standards of toys,making it 100% safe and non-toxic,friendly to baby's skin.
✔ Removable Canopy: The baby float for pool come with a breathable and removable UPF50+ sun canopy to protects baby's skin away from sun, enjoying summer time anytime,anywhere.
✔ UPF 50+ Sun Protection: Enjoy summer time anytime, anywhere, The baby swimming float for pool come with a breathable and detachable and foldable UPF50+ sun canopy to protects baby's skin away from sun.
✔ Safety: Bottom Support to prevent baby from sliding out ,Non-inflatable sponge chest support to protects the baby belly, Lengthen and widen sides:to prevent flipping from sides.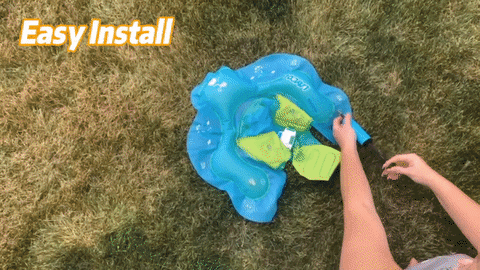 ✔ 5-Fold Safety Protection:  5 belt to protect child safe. Prevent baby from sliding out or flipping backwards. One click unlock all can quickly take off the float.

✔ Two Swim Ways: Support BREASTSTROKE/BACKSTROKE- Upgraded to both backstroke and breaststroke, allowing your baby to enjoy playing in the water as well as developing an interest in learning to swim.
✔ Breaststroke Gold 40 Degrees: When the baby is lying on the swim float, being able to maintain the post of breaststroke all the time, cultivate your baby's correct swimming posture.
Package Includes:
1x Baby Swimming Float
1x Canopy
1x Manual Pump
2 x Swim Water Toys Accessories

1x User Manual