---
Sick of sleepless nights and restless partners?
Our Smart Anti-Snoring Device is the solution you've been looking for. Say goodbye to snoring and hello to peaceful nights for both you and your partner. Experience the difference a good night's sleep can make.

Why Choose Our Smart Anti Snoring Device ?
✔ More efficient snoring solution
✔ Fast stop snoring
✔ Smooth breathing
✔ Pulse therapy
✔ Safe & No irritation on the skin
✔ No need medication and surgery
✔ For adults and kids
✔ Small and portable
✔ Reusable
✔ Comfortable to wear
✔ One button switch, easy to use
✔ USB port for convenient charging and long-lasting life
Features: 
New Technology: The snore stopper automatically detects snoring through highly accurate sensors and massages the sublingual nerve and jaw muscle groups with different frequency vibration pulses, thus regulating the breathing rhythm and allowing you to breathe smoothly to stop snoring.

Stop Snoring Naturally: Smart stop snoring device allows families to have a good quiet sleep at night, and through long-term use can change sleep breathing, thus effectively reducing and stopping snoring.

USB Rechargeable: Our stop snoring device has a strong battery life, up to 35 hours of battery life, can meet you for any long sleep needs, the product is equipped with USB data cable, you can charge at any time, to bring you convenience.

Easy to Use: There is only one on/off button, just turn on the device and put it on to start working automatically, without any additional human operation during use.

Multi-Function: It can effectively prevent snoring, which further helps to improve the health problems introduced by snoring, such as poor breathing, cardiovascular disease, memory loss, and so on. Consistent use can also help reduce double chin.
Advanced Material: Our anti-snoring device is made of high-quality ABS materials-very durable material to make sure your skin is not irritated, you can safely use, bring you the most comfortable experience.
How This Device Works:
The product automatically and accurately detects snoring through high-precision sensors and passes through different frequencies. The vibratio pluse massages the hypoglossal nerve and jaw muscles to tighten the muscles, adjust the breathing rhythm to make the breathing smoother.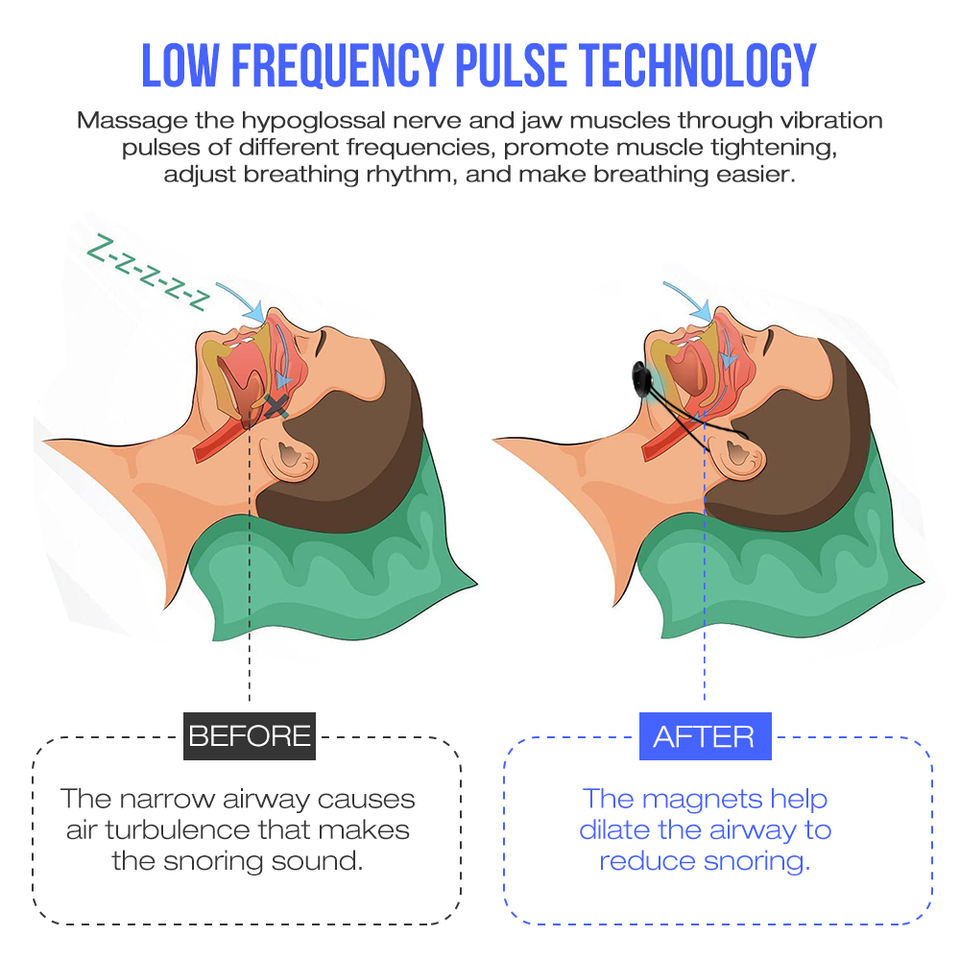 The Perfect Snoring Solution to Bring You a More Peaceful Sleep!
After 2-3 weeks of use, the snoring frequency will be reduced a lot and you will breathe smoothly when sleeping.
After about 30 days of continuous use, you will be able to breathe smoothly while sleeping. You and your family can enjoy deep sleep.
There is no dependence on the use of our snore stopper. You can get off the product after about 2 months of use.

Do you know that snoring can cause more harm than just keeping your partner up at night!? Snoring, one of the main symptoms of sleep apnea, will lower your blood oxygen level and increase chances of Stroke, Heart Disease, Hypertension and other diseases. However, the major sleep apnea remedies on the market each have their own problems.

That's where Our Smart Anti-Snoring Device comes in, to truly help you Sleep Better and Breathe Easy!
Why This Product Is Right For You:
✔️ 96% Success Rate: Rated as the most most comfortable and effective Snoring & OSA solution

✔️ 95% Of Sleep Partners Report No Snoring: Eliminate snoring for you and your partner

✔️ Instant Snore Relief: Engineered to effectively prevent snoring, so that you can enjoy a healthy sleep every night.

✔️ Most Advanced Snore Device Available: Snore Stopping Power. Effective, Comfortable, Light & Portable
What's in The Box :
1x Anti Snoring Device
1x USB cable
2x Ear Strap
1x User Manual