---
Transform your smile, transform your life with Our Snap-On Smile Veneers and feel confident with every grin!
"I just saved £100 by getting this £29.99 Snap on Smile Veneers, it is WORTH every penny!"

⭐️⭐️⭐️⭐️⭐️ -

Susann K

.
A GREAT ALTERNATIVE TO EXPENSIVE BRACES
Do you often feel embarrassed about your smile or your imperfect teeth? No need to go to the dentist to have it fixed! Use the Snap on veneers false teeth instead and achieve the picture-perfect smile you've always dreamed of but without costing you a fortune!
FEATURES:
✔️ Reusable: Keep inside the cover when not using, can be reused every day

✔️ Easy Insert: This is a special custom-made mold that works to disguise crooked, stained, missing and gapped teeth. It includes moldable material that you can sculpt into a realistic tooth in minutes.
✔️ Adjustable: The size can be adjustable after putting into hot (boiled) water before use, which allows it fits most people.
✔️ Eating & Drinking: Continue enjoying your everyday activities like eating and drinking many of your favorite foods without removing your clip on veneers.

✔️ Smile With confidence: This beautiful denture can make you smile more. Now you smile freely with confidence. Construct a durable tooth replacement from the comfort of your home.

✔️ Safe: Won't harm your teeth, gums, or mouth

✔️ Easy To Clean: Simply run under some water and brush using a toothbrush to get all the bacteria out.
Advantages of using our Snap On Smile Veneers
While Snap-On Smile is not a fixed solution like veneers or implants, it offer simplicity and flexibility that many love. It benefits include:
Avoid paying a fortune for braces and expensive alternatives.
Thin, strong and looks just like real teeth.
An affordable solution to crooked teeth, missing teeth, odd-shaped discolored teeth.
Completely functional - eat and drink whatever you like.
Little to no speech impairment.
Removable and reversible for utmost convenience.
No palatal coverage means you won't feel like there's something foreign in your mouth.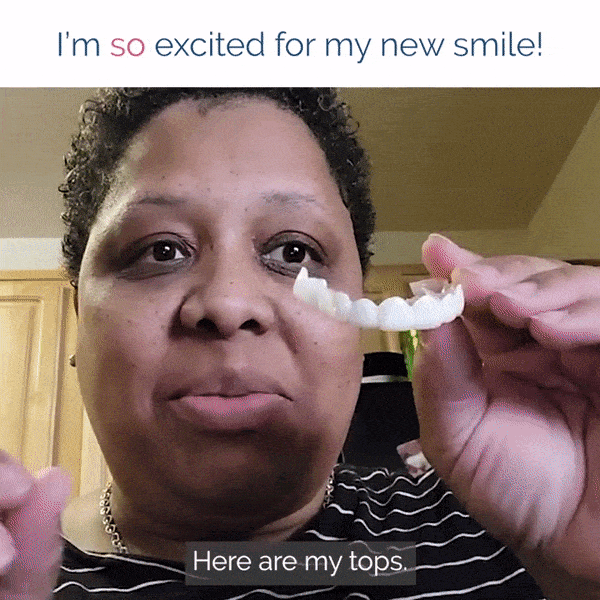 INSTRUCTIONS - HOW TO TO USE SNAP-ON SMILE VENEERS
Place the veneer into a cup of hot, almost boiling water. This procedure will make the teeth flexible and ready for custom fitting.


Using a mirror, firmly position the Snap on smile veneers over your existing teeth. Press them firmly against your teeth and gently pat the impression material with the thumbs behind your real teeth.


Gently ease the veneer out of your mouth after 30 seconds.


Set the veneer in a glass of cold water to cool it down. The veneer will turn white when it has hardened.