---
Get Your Toes Back To Their Natural Position!
What Makes 3D Knob Toe Bunion Corrector Special: 
✔ Creative knob design adjust the correction angle according to the degree of valgus.

✔ Painless & Comfortable
✔ Upgraded Adjustable Bunion Corrector.

✔ Help repairing overlapping toes, hammer toes, hallux valgus, crooked toes and other foot problems, adjust the toes to their natural position.

✔ Suitable for all sizes and does not affect your daily activities.
✔ For women and men and suitable for left & right feet.

✔ Made of high-quality materials, soft and easy to clean.

Features:
Natural Correction: Without requiring surgery, our bunion corrector gently realigns your big toe to it's proper alignment, the large strap helps keeping your feet tight and secure to eventually get your desired results by consistently wearing.
Soft Material: Made of professional materials, the bunion toe straightener can relieve hallux valgus to the greatest extent. It also has a soft silicone pad inside which is easy to clean .
Precisely Adjust: This is the part the knob design values, unlike traditional bunion correctors, you will decide the toe adjust correction angle freely and by scale.
One Size Fits Everyone: The bunion corrector for women and men suitable for left & right feet.It can be adjusted to provide a comfortable fit. It is suitable for all sizes and can be used on both male and female feet.
Relief Bunion Pain: Featured with a soft silicone inner pad, bunion toe corrector straightener provides cushioning and prevents the bunioned toes from rubbing against other toes. You will have a maximum bunion pain relief when wearing the toe straighteners.
Moves Freely: Features 180° flexible rotation design, you can simply move with the bunion corrector without any effect to the correction.
How To Wear It ?

First step: Pull the knob up, loosen the cable, wear and attach the silicone pad to the foot bone.

Second step: Adjust the arch strap to fix the sole of the foot.

Third step: Adjust the big toe strap.

Fourth step: Adjust the knob to adjust the tension to an appropriate degree.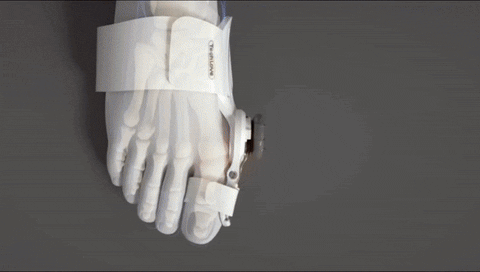 Why Toe Bunion Corrector Is The Best Solution:

The perfect solution to repair overlapping toes, hammer toes, bunions (hallux valgus), crooked toes and other foot problems.

1 in 3 adults suffer from bunions and other foot related conditions
Common causes:
✔
Depending on the severity of your foot condition, you can expect to see results within the first 30 days.
✔
95% of our customers notice a significant improvement after 60 days.
✔
For less than 1/8 of the cost of one podiatry treatment, you can get results that last a lifetime.
Experience Pain-Free Walking with Our Bunion Toe Corrector - Backed by Our 30-Day Guarantee:
Say goodbye to the discomfort and pain associated with bunions and enjoy pain-free walking with our Bunion Toe Corrector. Our innovative design offers effective and lasting relief, while our 30-day guarantee ensures that you can purchase with confidence. If for any reason you are not completely satisfied with your purchase, simply return it for a full refund. Order now and take the first step towards a pain-free life.